There was a time where cameras weren't as common as they now are. But now with smartphones and laptops it wouldn't be inaccurate to say that everybody has access to a camera. We are so used to them that we aren't really amazed by them anymore, but the world of photography has more to offer than what a phone can do. Today we'll take a look at Kolarivision.com a website focused on offering new ways to see and record the world with cameras and a place where we will learn a wide variety of tricks and tips.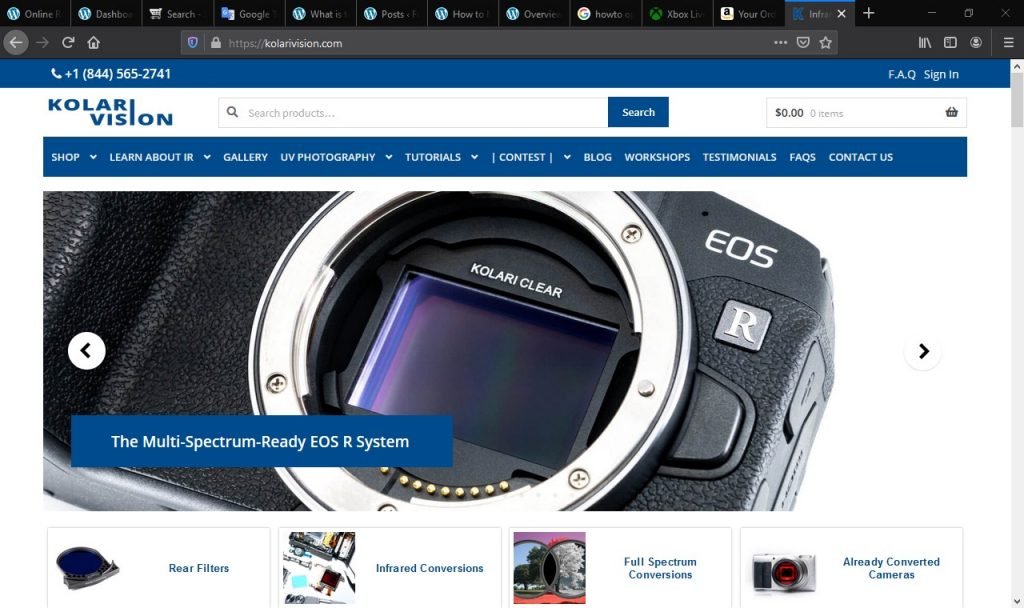 Download Our Free Infrared Photography Guide
They have a filter that you will like
Please check out their Kolari Vision IR Chrome Lens Filter.
This Infrared+Visible lens filter is designed to make your full-spectrum digital camera achieve the look of Kodak Aerochrome IR film, straight out of the camera, and without the need for editing. Now that is just impressive. They are in the United States.
A hub for infrared photography and beyond
Once you first visit Kolarivision you will be greeted with a rather sparse homepage. While usually this would be a warning sign; it turns out the website does hold a lot more content than you'd assume at first. Kolarivision is first and foremost a collection of resources when it comes to infrared photogrpahy, UV photography and in general anything you can shoot with a full spectrum camera.
If the above confuses you don't worry too much. Kolarivision is first and foremost an informational website. Whether you are an expert on the above or a complete newbie there's content right for you. Some of the first options you'll see in the header are in fact explanations on what exactly are IR and UV photography. These explanations are both thorough and accurate, but also really easy to follow. The main appeal of the website really lies in it's articles, and they are both interesting and apt for all audiences.
That said introductions are but the tip of the iceberg when it comes to Kolarivision. The website is absolutely loaded with guides on tutorials on everything that has to do with this unique corner of photography. If the explanations they offer on infrared photography got you hooked then they also have detailed explanations on just how you can get started with it.
While most sites would usually just redirect you to a sales page for their cameras Kolarivision offers some more options. First of all you can see detailed descriptions of how exactly does an infrared converted camera work. But on top of that there's detailed breakdowns on how to disassemble various models and how viable they are for IR photography.
All in all the wide selection of information makes Kolarivision a great hub for infrared photography and beyond. And even a simple visit might be enough to get new photographers invested in this unique world.
Kolarivision a vast but costly selection
Besides the healthy selection of articles Kolarivision's main appeal lies in it's shop. The online shop counts with just about anything a person could need to get started on infrared photography. Conversion of cameras is their most advertised service but is far from being the only one. Full spectrum conversions are also available, pre-converted cameras can be directly bought for them, any filter you could need for your own conversion can be found on it, and even converted drones are offered at Kolarivision's shop.
Now the simple fact is that photography isn't the most affordable hobby, but infrared photography raises the costs even further. Most camera conversions can very well reach $450 and at first glance Kolarivision isn't that far from the mark. Conversions on the website are listed by model with unique prices for each one. One of the main issues with the site however is that the price listed upfront most likely won't be the final amount you'll pay. Kolarivision lists the basic conversion price for the cheapest model per series. That means that once you find your model there will be a chance that it'll cost more than the price you first saw.
On top of all we've mentioned this cost doesn't cover shipping, nor certain optional filters you might want for better results. Since their preferred shipping method starts at $39,99 and those filters can very well cost $100 you'll see a fast increase in prices. Their pre-converted cameras are of course not much of a cheaper endeavor.
Their filter selection is still great, and there are sales in the shop as well. But in general Kolarivision might prove to be too expensive for someone who's just getting into this world.
Kolarivision lens spot database
Subscribe to our YouTube channel
Modding the Canon 1300D T6 X80 to IR 850nm For Tom ASMR
Modding the Canon 1300D T6 X80 to 590nm IR For James
Modding the Canon 1300D T6 X80 to a Astro For Bernard
Modding the Canon 1100D T3 X50 to a Full Spectrum for Francesco
Modding the Sony A6000 to a Full Spectrum for Anna
Modding the Canon 600D T3i X5 To 720nm For Baudry
Modding The Canon 1300D to 850nm IR For Jim
Modding the Canon EOS M3 To A Full Spectrum For Kiriakos