Here are infrared pictures from my trip in Athens.
Okay, the first one is a moped. We have a lot of these over here because of good weather. Starting from May till Christmas you ride a moped and rain would be a rare event.
Download Our Infrared Photography Guide
I used Canon 18-55 kit lens which lacks a bit of contrast in the infrared spectrum. But the good think about is that it is compact and lightweight.
Another image with the 18-55 kit lens. We have those abandoned cars here that sit doing nothing. This is next to an abandoned car body shop if I good remember.
This is a 60mm 2.8 EF-S prime lens. It's a very good lens, but it's prime so need more walking to compose.
Again this is 60mm 2.8. I could not compose as I wanted because a wall was on my way.
Same 60mm 2.8.
I think I overdid the contrast a little bit in this picture.
This picture is taken with Canon 55-250 EF-S. It's a kit lens, but it's very sharp; something near the L lenses. This is taken on a bridge near Davaki Pindou.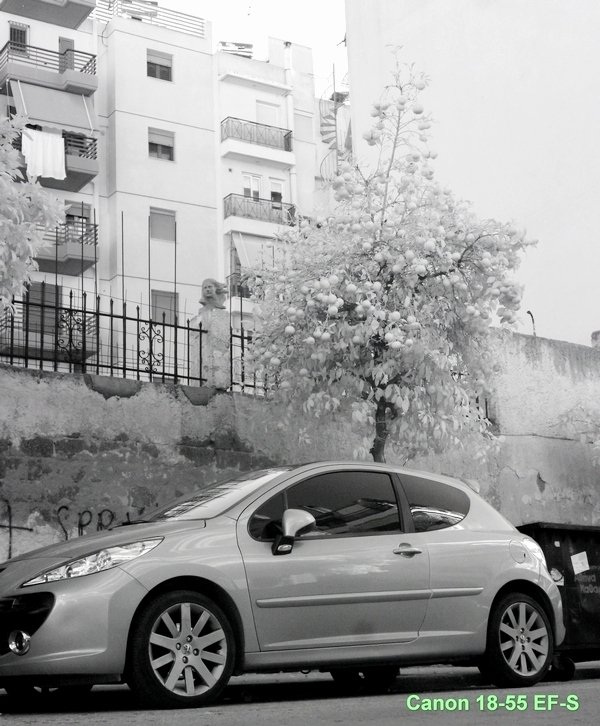 A few pictures with a Canon 18-55 kit lens.
I used here 55-250 EF-S lens, near Railway Museum of Athens.
This is taken with the 18-55 kit lens next to Revoil gas station.
This is Parthenon, from a bridge near Davaki Pindou.
Another picture from the same bridge.
This is a street on a sunny day.
Please visit our shop to find infrared camera that suits you.
Visit Mark Hilliard's blog for mind blowing infrared images.
Subscribe to our YouTube channel
Modding the Canon 1300D T6 X80 to IR 850nm For Tom ASMR
Modding the Canon 1300D T6 X80 to 590nm IR For James
Modding the Canon 1300D T6 X80 to a Astro For Bernard
Modding the Canon 1100D T3 X50 to a Full Spectrum for Francesco
Modding the Sony A6000 to a Full Spectrum for Anna
Modding the Canon 600D T3i X5 To 720nm For Baudry
Modding The Canon 1300D to 850nm IR For Jim
Modding the Canon EOS M3 To A Full Spectrum For Kiriakos